Painting Party – Snow Fox 

Friday, January 20, 2017 ~ 7:00 pm 
Yes, it's still winter & what could be cuter than a fox dressed for snow & maybe sledding!
Come join us, create your own on canvas with Amy Harden (yes, she's back!)
We provide everything you need; you bring your favorite beverage & snacks. 
$35
Amy Harden, Instructor
Never painted before? Then this class is for YOU!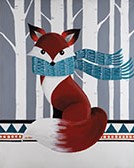 Design by Social Artworking
We provide everything you need: canvas, paint, brushes, aprons, easels, and inspiration…. Just bring yourself, your friends, wine if you like and snacks, and let the Painting Party begin!
RESERVATIONS ARE REQUIRED by THURSDAY at noon!! 615-380-8071  
---
$35  The Painting Party – Snow Fox | January 20, 2017 | 7:00 pm

---
 Willow Oak Center for Arts & Learning
726 South Main Street Springfield TN 37172
615-380-8071 ~ www.willowoakarts.org