Wood Pallet Painting Party – Flag  

Friday, May 6, 2016 ~ 7:00 pm
High school to adults
$45 – 21″ Regular Pallet
$50 – 42″ XL Pallet (pictured below)
includes all supplies
This pallet is back! Ever so popular last year & why not? The American flag — nothing like it! Show your patriotism in a big & bold way. We provide everything you will need from instruction to aprons; you bring your favorite beverage & snack.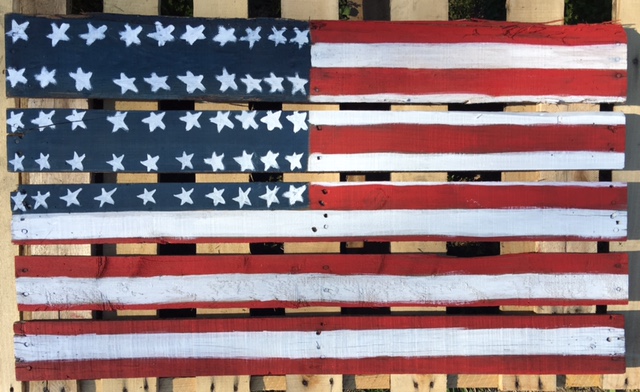 Pay online – www.willowoakarts.org  or call 615.380.8071
We provide everything you need: pallet, paint, brushes, aprons, easels, and inspiration….
Just bring yourself, your friends, wine if you like and snacks, and let the Painting Party begin!
RESERVATIONS ARE REQUIRED by THURSDAY at noon!! 615-380-8071    
---
$45 Flag – 21″ Regular Pallet – Wood Pallet Painting Party – May 6, 2016

---
$50 Flag – 42″ XL Pallet – Wood Pallet Painting Party – May 6, 2016

---
 Willow Oak Center for Arts & Learning
726 South Main Street, Springfield TN 37172
615-380-8071 ~ www.willowoakarts.org